For a Corruption-Free AFCON TotalEnergies Cameroon 2021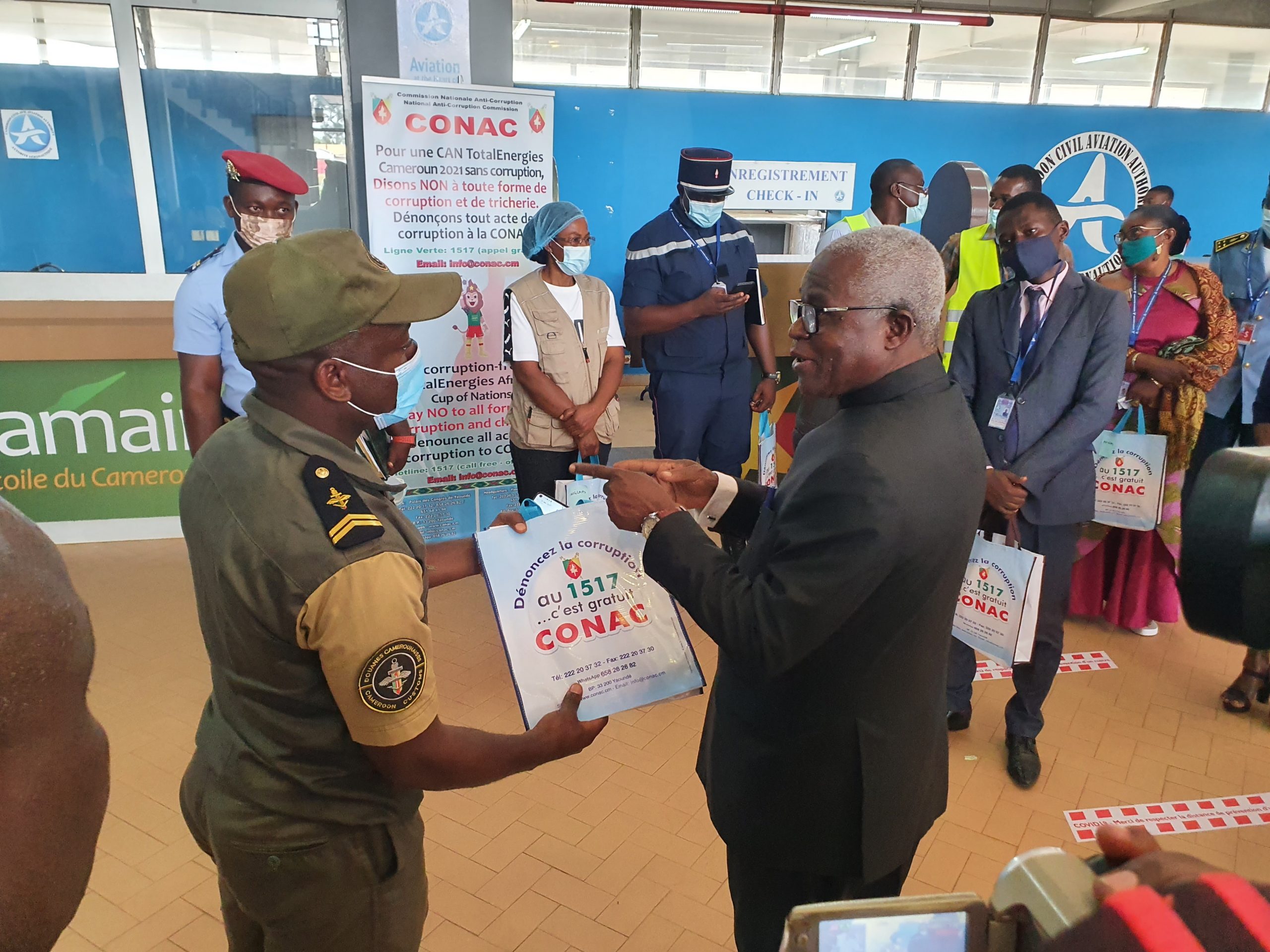 The Chairman of the National Anti-Corruption Commission, Rev. Dr. Dieudonné MASSI GAMS, on Wednesday, December 29, 2021, at the Bafoussam–Bamougoum Airport, launched a campaign dubbed "AFCON TotalEnergies Cameroon 2021 Without Corruption".
The Campaign, unrolled at a moment when Cameroon prepares to host the 33rd edition of the Africa Cup of Nations, from January 9 to February 6, 2022, consists of putting up anti-corruption notices in towns that are hosting the different pools of the competition; notably, Bafoussam, Douala, Garoua, Limbe-Buea and Yaounde.
The first Roll-Up to launch the campaign was mounted at the Bafoussam-Bamougoum Airport, with other airports in host cities following suit. Meanwhile, Billboards and Banners have already been fixed in strategic areas in the AFCON TotalEnergies Cameroon 2021 host towns.
All the communication and sensitisation gadgets carry CONAC's message including the Commission's Toll-free number, 1517, through which the public can call and denounce all acts of corruption free-of-charge.
Speaking while launching the Campaign, the CONAC Chairman said the initiative seeks to reinforce sensitisation of the masses on the need to fight against corruption and to reassure visitors of the effectiveness of the Anti-Corruption drive in Cameroon. He added that international competitions are a window for investments as they project the image of the host country and attract international investors.
During the African Nations Championship, CHAN, CONAC carried out similar activities in the towns of Douala, Limbe and Yaounde from the 11th to 14th of January, 2021.